Beppa's mission
A female southern elephant seal was satellite tagged by Dr. Christhope Guinet in the Valdes Peninsula in October 2018. After an unusually long time at sea, that female, that we nicknamed Beppa, hauled out on Motley Island.

Dr. Guinet asked us to recover the two tags, that collected important oceanographic data. Thanks to the help of Richard Williams we were able to go to Motley on the Game Changer helicopter, locate Beppa, sedate her and recover the tags. The operation went smooth and Beppa easily recovered from the anesthesia. The tags will now be sent to the producers (Sea Mammal Research Unit and Wildlife Computers) for data downloading and decoding.
(Click on picture for hi-res version)
Beppa and her pup just after the tags deployment (courtesy of Dr. Christophe Guinet)
Track of Beppa's post-breeding feeding migration
Beppa's Argos fixes on the south of Motley Island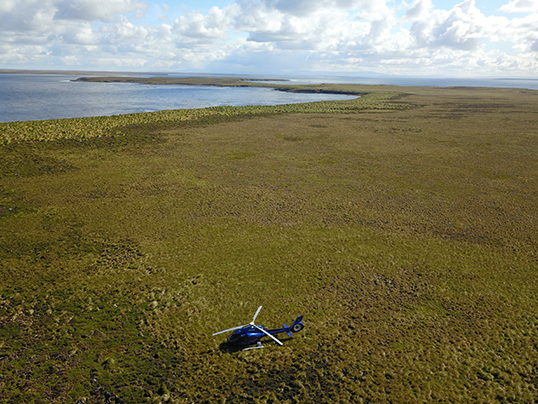 The Game Changer helicopter on Motley Island
Location of landing site, Beppa's position, and track of the search
Simona flying our Mavic drone on the Mot islet to search for Beppa
The small and narrow cove where we located Beppa. The cliffs likely reflected Argos radio signals, so she appeared to bemore likely on the pebble beach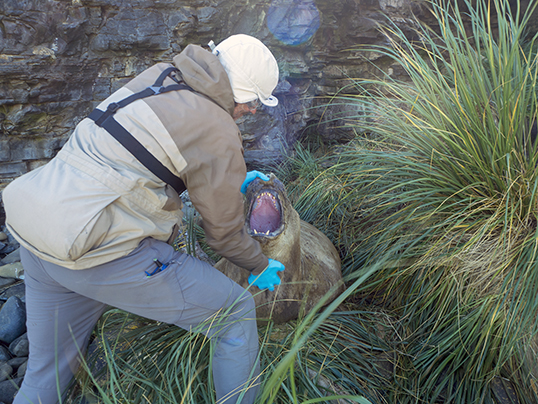 Mechanical stimulation of Beppa during the only episode of breath stop longer than 1 minute. Beppa immediately resumed normal breathing
Beppa fully recovered after the sedation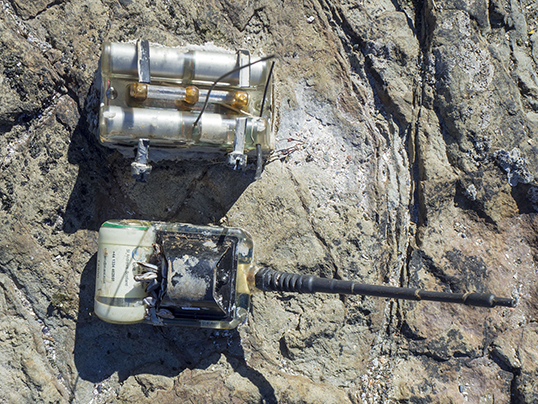 The recovered tags. Top: Wildlife Computers tag; bottom: Sea Mammal Research Unit tag
The recovery team, and the Game Changer helicopter
Aknowledgements

We would like to thank: the other members of the recovery team (Hannah Newton, Matt Jacobs, and Richard Williams); Beppa for having been so useful to science; Denise Blake of the Environmental Planning Department of the Falkland Islands Government for the amendment to our elephant seal research licence that permitted us to sedate and handle Beppa on Motley Island; Esther Bertram and Sarah Crofts on behalf of Falklands Conservation (landowner of Motley Island) for giving us permission to land on Motley; Micky Reeves for the initial idea to contact the Game Changer; Jenny Luxton for help with logistic in Stanley. We also would like to thank all the people that offered help, suggestions and hints in the long days during which Beppa was roaming around the Falklands. The biggest thanks goes to Richard Williams, pilot of the Game Changer helicopter, and to the captain and the owner of the Game Changer yacht. Without their help out visit to Motley Island would have been much more complex.

Report on Beppa's satellite tags recovery (PDF)