Drones: seals
Our main research project at Sea Lion Island is the long-term study of southern elephant seals. Although elephant seals are easy to count, mark and observe we anyway found various uses for our drones. We started using georeferenced drone images of the seals during the breeding and moulting season to study the effect of group density and seal spacing on the seal behaviour.
A medium-sized southern elephant seal harem from the drone; seal seax ad age classes can be easily recognized in the original high-resolution photo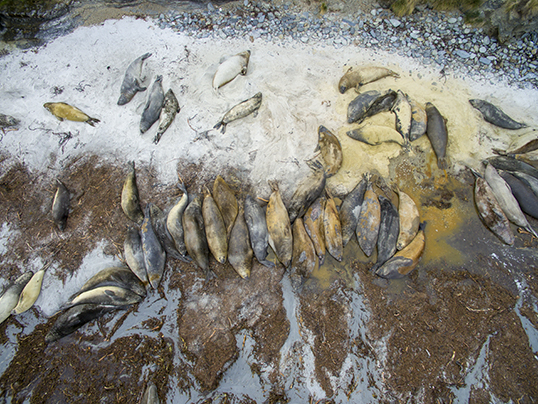 A group of moulting elephant seals from the drone
We are now testing the feasibility to use drone imagery to buil 3D models of harems that may let us estimate body size and weight of large number of seals. Until now, we used single seal photogrammetry to estimate size not only of the whole body, but also of part of it (e.g., the proboscis). Although effective, this approch is time consuming. With 2D photogrammetry, we can measure only one seal at a time, and the seal needs to be in a well aligned posture. On the contrary, in principle, 3D models may permit to obtain good estimates of size even when seals are not aligned, because they permit to take into account the posture of the body.
Flying a Phantom III drone over a seal harem to obtain a 3D model of it
For more information please contact us by email at fil_esrg@eleseal.org. Thank you for your interest in our research projects !